Getting started
Basics
Domains & Origins
Performance
---
Configuration
Basics
Conditions
Dictionaries
Domains & Origins
Request settings
Cache settings
Headers
Responses
Performance
Custom VCL
Image optimization
Video
---
Security
Access Control Lists
Monitoring and testing
Securing communications
Security measures
TLS
Web Application Firewall
---
Integrations
Logging endpoints
Non-Fastly services
---
Diagnostics
Streaming logs
Debugging techniques
Common errors
---
Account info
Account management
Billing
User access and control
---
Reference
Encrypting logs
Last updated April 20, 2018
For supported logging endpoints, Fastly allows you to encrypt your log files before they are written to disk. The files are encrypted using OpenPGP (Pretty Good Privacy).
IMPORTANT: Be sure to take into account security, privacy, and compliance requirements when making configuration and endpoint decisions for the data you intend to include in streamed logs.
Supported logging endpoints
The following logging endpoints currently support PGP encryption:
Generating a PGP key pair
To use this feature, you'll need to use a PGP implementation (such as GPG) to generate a public and private PGP key pair. Typically, this involves running the following command in a terminal application on your personal computer:
gpg --gen-key
Follow the instructions shown in your terminal application. Enter your email address and set a passphrase when prompted. Remember the values you enter.
WARNING: Keep your private key safe! If you lose it, your encrypted log files will be permanently unreadable.
Exporting the PGP public key
After you generate the PGP key pair, you'll need to export your public key. Typically, this involves running the following command in a terminal application on your personal computer:
gpg --armor --export <your email>
The output will be in PEM (Privacy-Enhanced Mail) format and will look similar to the following:
1
2
3
4
5
6
7
8
9
10
11
12
13
14
15
16
17
18
19
20
21
22
23
24
25
26
27
28


-----BEGIN PGP PUBLIC KEY BLOCK-----
mQGiBFciSsYRBAC9aHsraEzLmzfuQLx+BZmGTCOQFsPGpiPaEKrulRbrcBvtt3Bl
zajFP9iVzSm3+Zyqge/1AtHllSnPHTqG2EoBCsWtXL/JnZcPjx8c5r8G5IuBGrh8
snP3KTJ64zCS7PUvrWy5RWcJ6Rs+6wiJ7zPOtU5wMEPuMbflh/soy50zrwCg74XN
u/jQYfGKTLTtap+hNPhO1o0P/2+Bqj7o3CgEkQQ8RRF+iVFPgt/5HEXpS6TxjJPJ
FFv2t311rwlJgPgH4nOuRwXRkJ+woPmZE2UVsG9bmV1296fq7o2HiPWUUHafUlPV
9ib4xlu2MPkCmoKVzOBKBxZ5kXYAYVchJnERrI8sPOATY+UG2zJyomPnUN3mOC7L
z1fcA/9aQaSOcPxxTJfT+JOuMwQuNbFJvrIR/QqEam4x/6hRlnLatVb7wRlKa5o2
9Pn7eGVLWIo791zwEALQSpvXIYasjVrJNPVGyORIMhMrgP0HUX3oKTX+iO7AepcS
8jAsLjTYNP/sP+n6/YAGQ2JckSBA/28s63K/Ud+NQE8EGBECAA8FAlcQSsYCGwwF
Cq+C9z2XwKzHLPyFIy5Fz1QIvH9iyZQkn8WbIExXojvE5WzfEbQfU2ltb24gV2lz
bHLAjtCG4qYNhebb4efLxyzW4b23WMC+SQa+3QKDa3PYONQDfsxzR2GvYJQLVWTu
CAcPAgQVAggPBBYCAwECHgECF4AACgkQjWBU6PMWoWUjUwCfUYPbGB+2CIhWbnWb
7zYmQKDIYTUAoKq5uAkfAmTp6CSkYw0l9C0vgpc4uQINBFciSsYQCADrWqWLv6TO
/JmDVPOJjmpve65/e9wGrgh4h5MotCVe7r+b4tplpkwC1poC97c6W4/Z2QKe2Wco
u+D5tEPugFf0Garn189P97L6tNRXJbR5VbDNrulyR18gJN0Bq4Du+/1kkmF2QRLQ
xCLhmE0S4HvSCLQY6FQHetDOn0jEP6covaX7U+ksXjpyASczaxPWA8Cnk9KrQ/mC
wAzx2CzgMX3FFwwEG43wlm1u+QnfuV6QOlQtFtclE/8eJ4WWdpAHkLwZDeEyrgvh
5zA5YhCnt2NbdwF32r6QOLhLL3sge/rsZ09ten+NBM6HJWDYTFkRlyOkVQTyNEsT
GUEgx3Q7/1c3AAMFB/4g5AhsoLRxbFGKJFbDEQxRYW1QQH6ChNMTqYA0k4vJ+Cbv
dG93QDxzaW1vbkBmYXN0bHkuY29tPohmBBMRAgAmBQJXQkrGAhsDBQkAG6+ABgsJ
41QqfQTWunwbCqAQPhuxYhUqaSBV9Wb1NUnwLzv0fkfJLTBp5X5B1eQGBdFFcpFa
+Rz79gfn41sylQlgRx1Xv79M5PObyAPuJDxBaSQ/lVzBfsK8lxxr90VvnJy4jpSe
QQgqFSQjxVxpdAd3gt0RaU9Tds0dkRy+kJNh31UJQShhFYBP58Q9Qr9A6NWPmJ2b
CQAbr4AACgkQjWBU6DMWoWVkAwCfX50rK3UXVQKz+F+r5qv2czQ9hcQAn3wQIgZ+
Mlw8D2qcp71wCZmX/mxz
=MiF8
-----END PGP PUBLIC KEY BLOCK-----

Enabling log encryption
To enable PGP encryption for a logging endpoint, copy and paste your public PGP key into the Fastly web interface. Follow the instructions in the logging endpoint guides.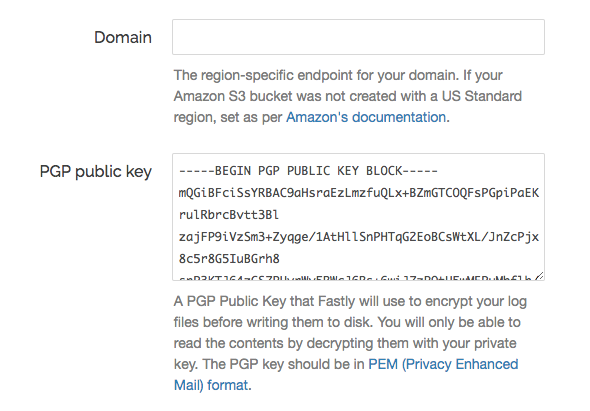 Decrypting log files
To read an encrypted log file, you'll need to download and decrypt it. Typically, this involves running the following command in a terminal application on your personal computer:
gpg --decrypt <encrypted log file>
Enter your passphrase to decrypt the log file.
Back to Top