About the My Profile Menu
The My Profile menu provides you with access to your personal profile information and settings as determined by the role you have been assigned. The My Profile menu also provides you access to your personal API access tokens for using the Signal Sciences API and a way to log out of the web interface.
Before you begin
Be sure you know how to access the web interface controls before learning about each of the pages you'll encounter there.
About the My Profile menu
The My Profile menu appears at the far right of the corp navigation bar: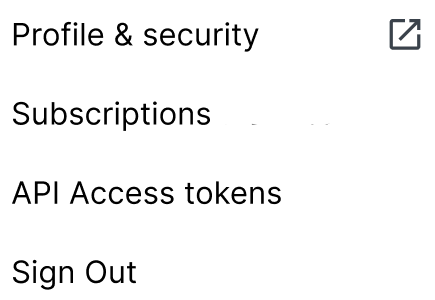 About the Account Settings
Selecting Account Settings from the My Profile menu displays the name and email address tied to your account as well as specific settings. The settings displayed will vary depending on your user role and package. From the Account Settings, you can:
Subscribing to alerts
You can elect to be notified via email about certain corp and site integration activity on Signal Sciences. Select the checkbox next to the subscription and then click Update subscriptions to start receiving email notifications. For a more extensive list of alerts to subscribe to, check out our mailing list integration.
Changing your password
To change your password from the Account Settings:
In the Current password field, enter your existing password.
In the New password field, enter the new password.
In the Confirm password field, enter the new password a second time.
Click Change Password to save the changes.
About the API Access Tokens
Selecting API Access Tokens from the My Profile menu displays the personal API access tokens associated with your account.
What's next
Dig deeper into details about all areas of the web interface controls.